Home

>

5km Indigenous Art Trail
EastLink 5km Indigenous Art Trail
The EastLink 5km Indigenous Art Trail is an outstanding community art collaboration between Mullum Mullum Indigenous Gathering Place (MMIGP), Croydon Hills Men's Shed, Mullum Mullum parkrun, EastLink and Whitehorse City Council.
Created in 2023, the EastLink 5km Indigenous Art Trail includes 12 wooden art poles painted by local Indigenous artists, located alongside the EastLink Trail in Mullum Mullum valley. Many of the artworks have representations of flora and fauna found in the area.
Starting and finishing close to the historic Schwerkolt Cottage (Deep Creek Rd, Mitcham), the EastLink 5km Indigenous Art Trail is easy to navigate:
The route of the EastLink 5km Indigenous Art Trail is purposefully exactly the same as the route of the 5km Mullum Mullum parkrun event that is held every Saturday morning at 8am. Mullum Mullum parkrun is a free, fun, and friendly weekly community event, part of the worldwide parkrun phenomenon. Walking, jogging or running, parkrun participants can follow the trail directions on the art poles while enjoying the artworks amidst the natural beauty of Mullum Mullum valley.
Walking the complete 5km trail should take between 60 minutes and 90 minutes for the average person.
A public car park, playground, bbq and picnic facilities as well as toilets are all available at Schwerkolt Cottage.
This unique collaboration involved:
MMIGP organised the artists and their artworks

Croydon Hills Men's Shed manufactured the wooden poles

Mullum Mullum parkrun determined the specific pole locations and the trail route

EastLink provided funding for the project and installed ten of the art poles

Whitehorse City Council manages Schwerkolt Cottage and its facilities, and installed two of the art poles on land managed by Council
Aunty Daphne Milward
Long-Necked Turtle
The Common Long-necked Turtle (Chelodina Longicollis) can live up to 50 years and is also known as the Eastern snake-necked turtle. The long-necked turtle is also the dreaming (totem) of the Yorta Yorta Nation – Aunty Daphne's clan. Also pictured is Duckweed which is used for a variety of purposes including a source of food for ducks, biofuel and a source of protein for various animal feeds.
Amanda Wright
Yellow Flowers
info to be provided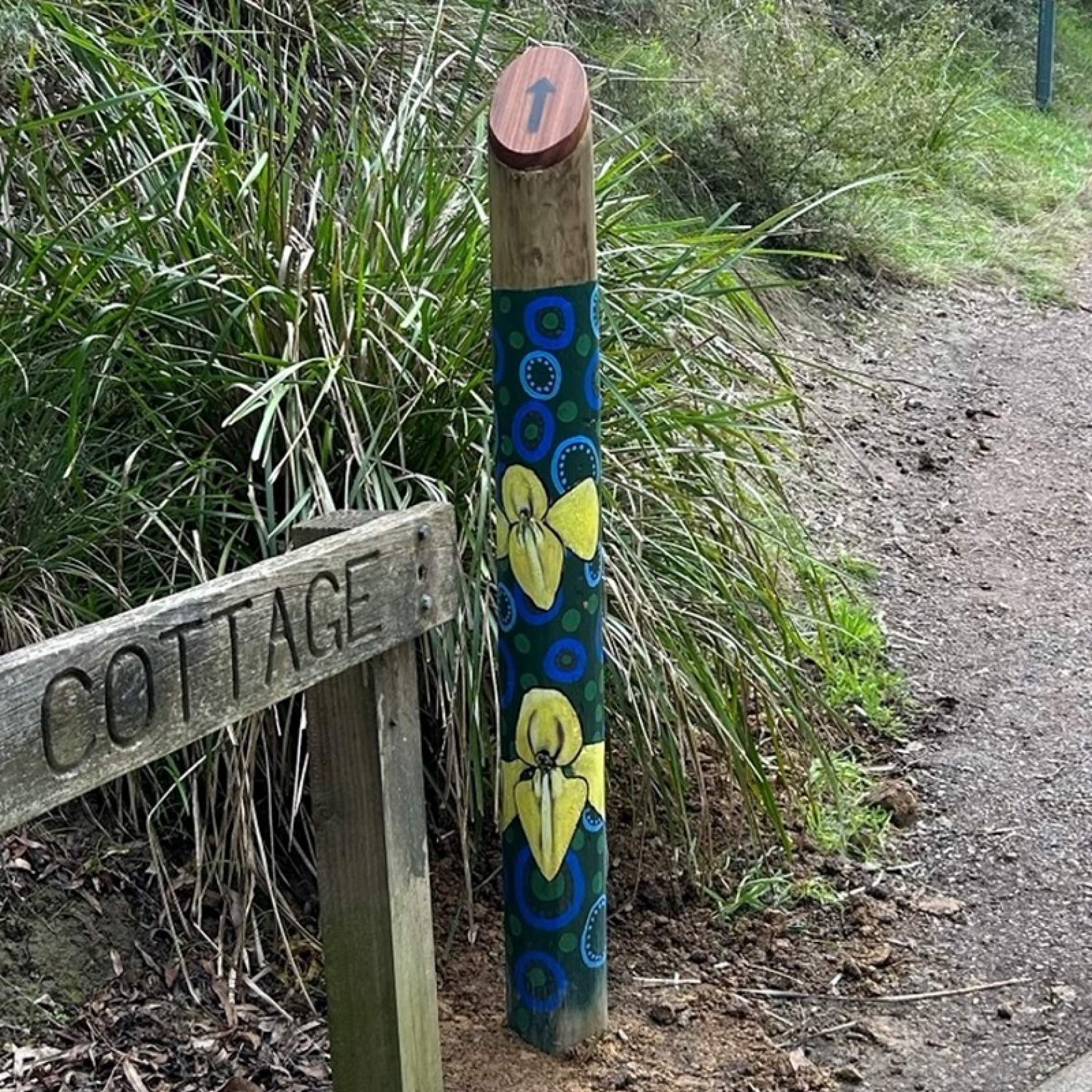 Amanda Wright
Bunjil
info to be provided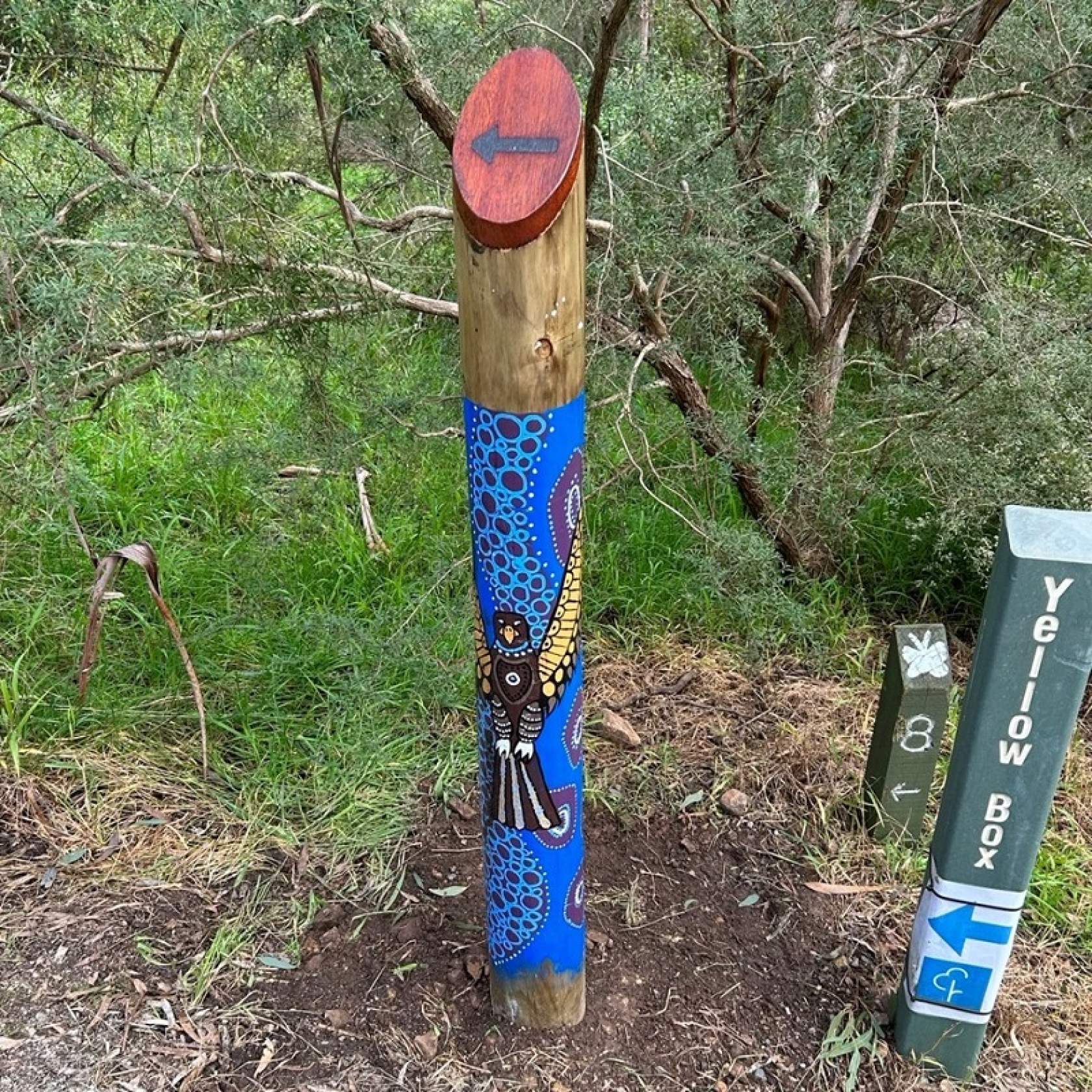 Chris Hume
Male Warrior
The male warrior depicted on this pole helps to represent the community being warriors in their culture.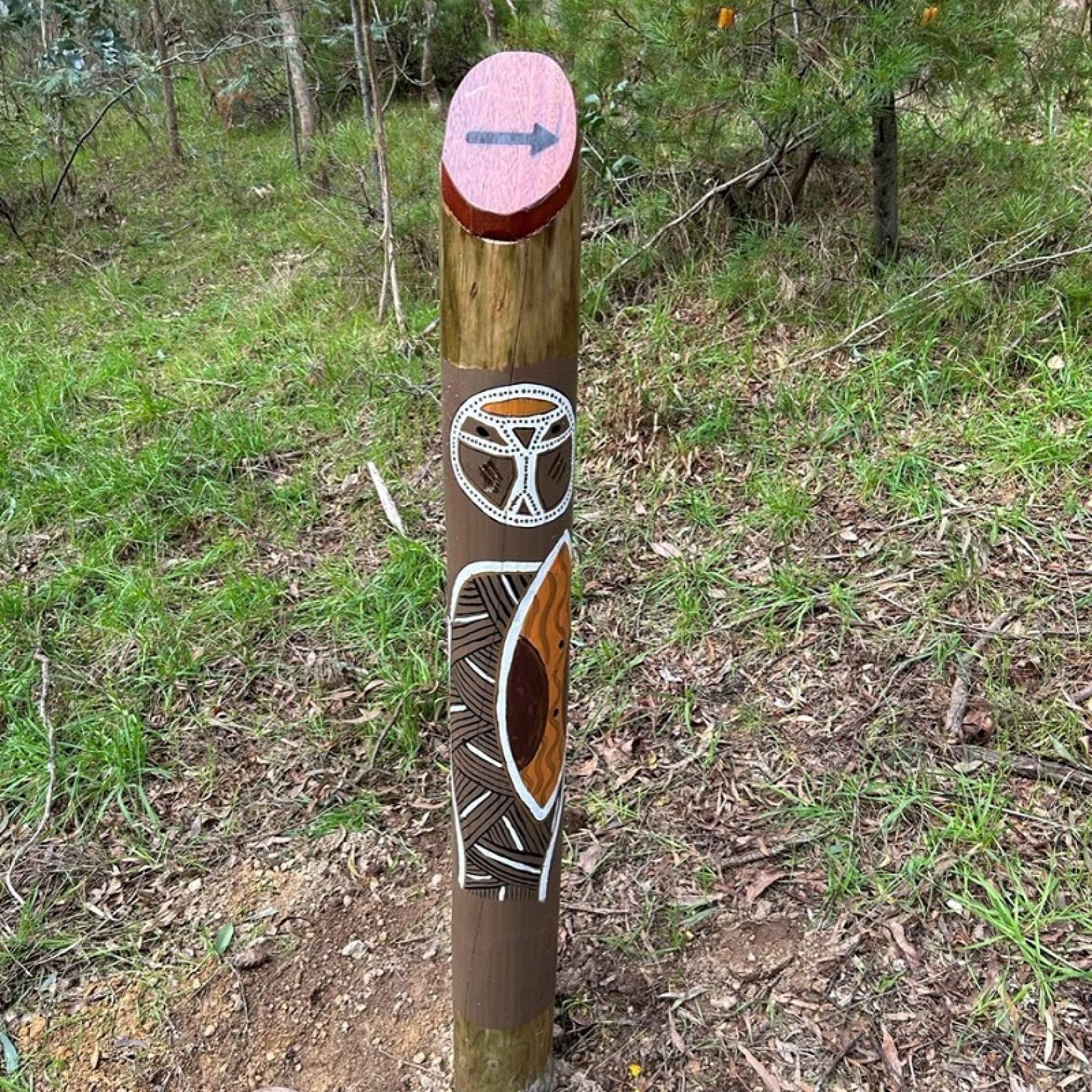 Aunty Daphne Milward
Fairy-Wren
Fairy-wrens are common and familiar across south-east Australia. This bird has adapted well to the urban environment in the Eastern capital cities. Pictured is also Wallaby Grass, a native perennial that attracts seed-eating birds and smaller parrots.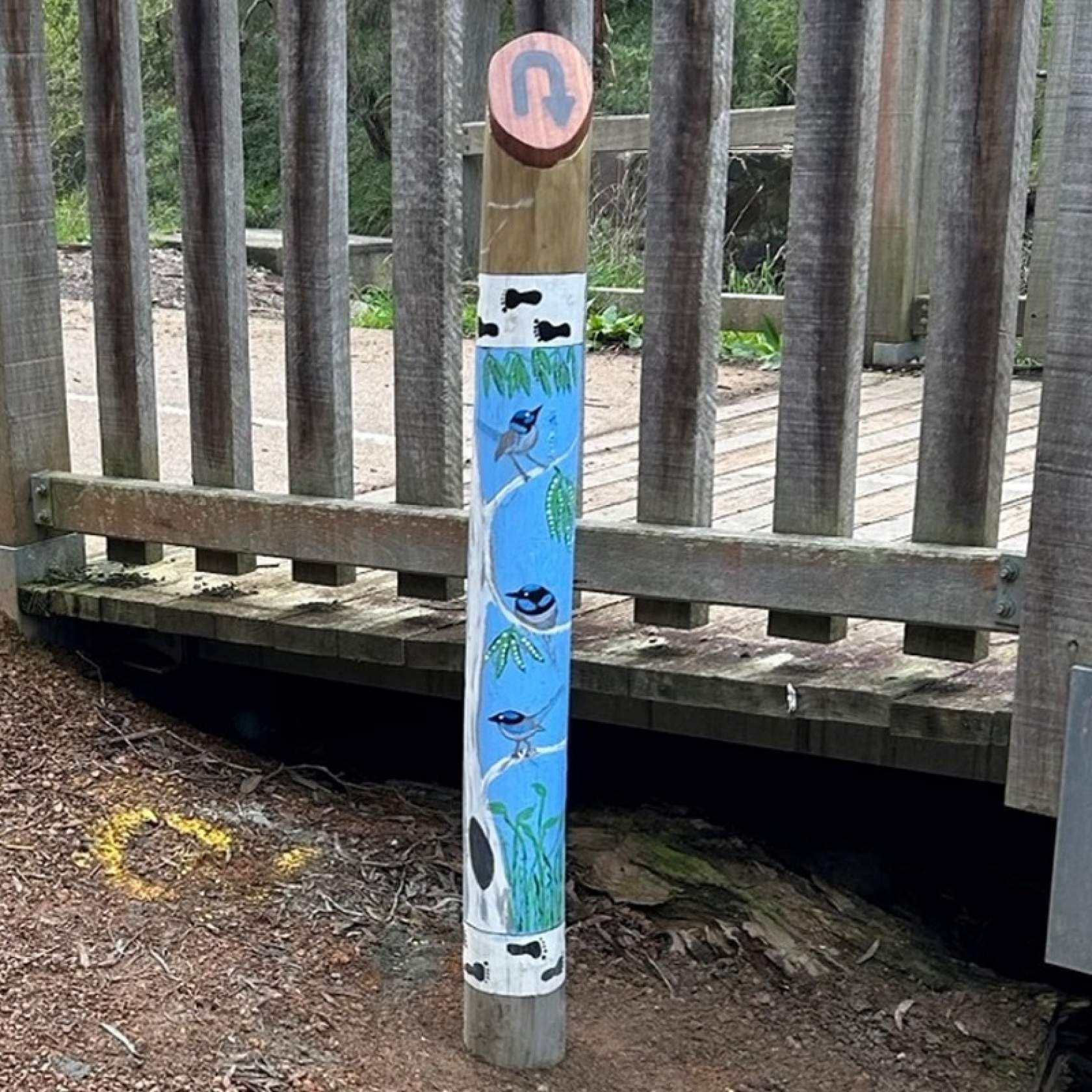 Chris Hume
Young Warriors with Elders
The young warriors and two Elderly warriors represent Elders passing on their cultural knowledge to community. Elders are well respected in community and are regarded as the holders of knowledge, culture and language, including stories, art and song. Elders aim to provide guidance, counselling and knowledge.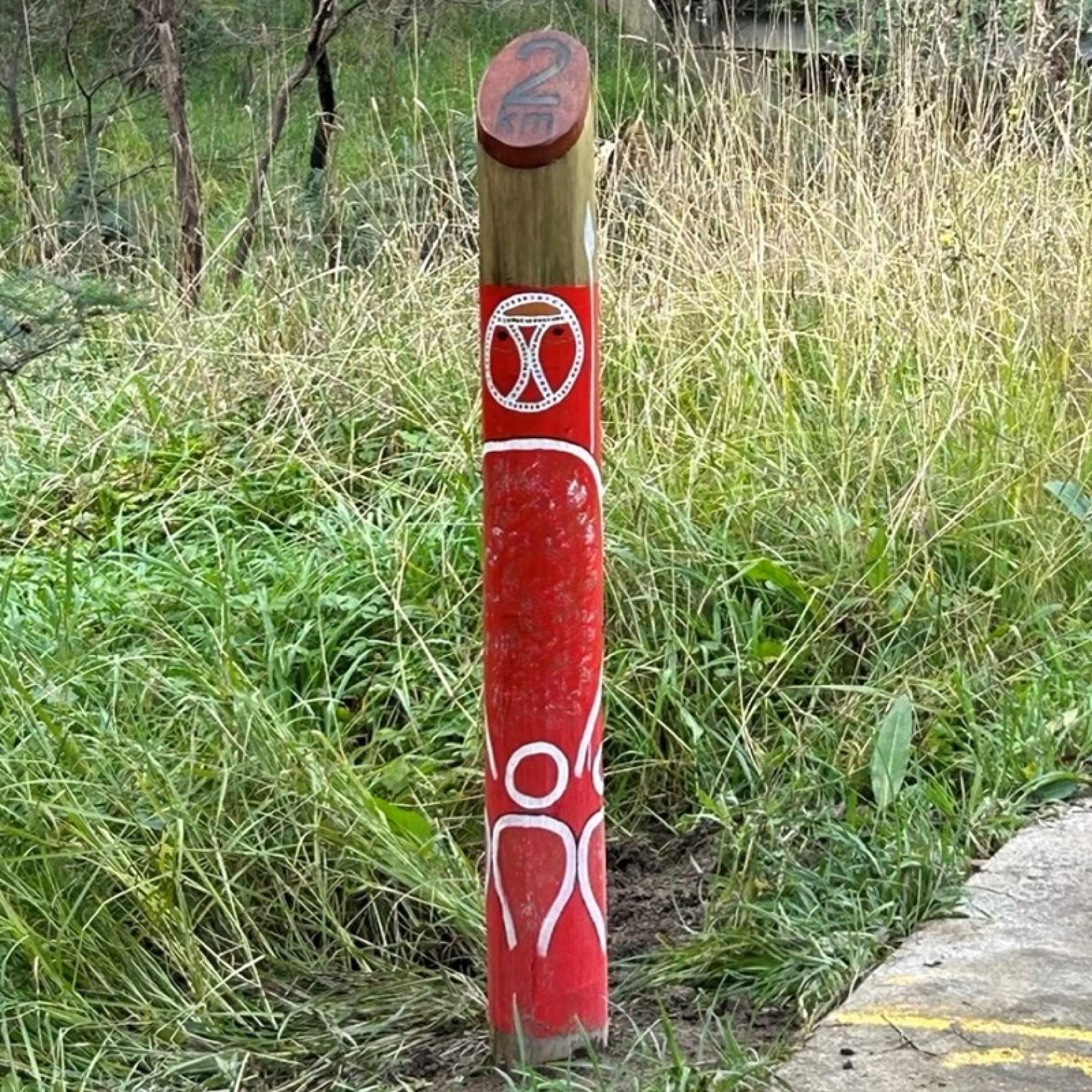 Aunty Irene Norman
Spotted Marsh Frog*
The Spotted Marsh Frog is medium-sized, reaching up to nearly 5cm in body length. It has a grey-brown or olive-green back with darker olive-green or brown patches. It is distributed throughout all of New South Wales and Victoria, eastern South Australia, the majority of Queensland, and eastern Tasmania.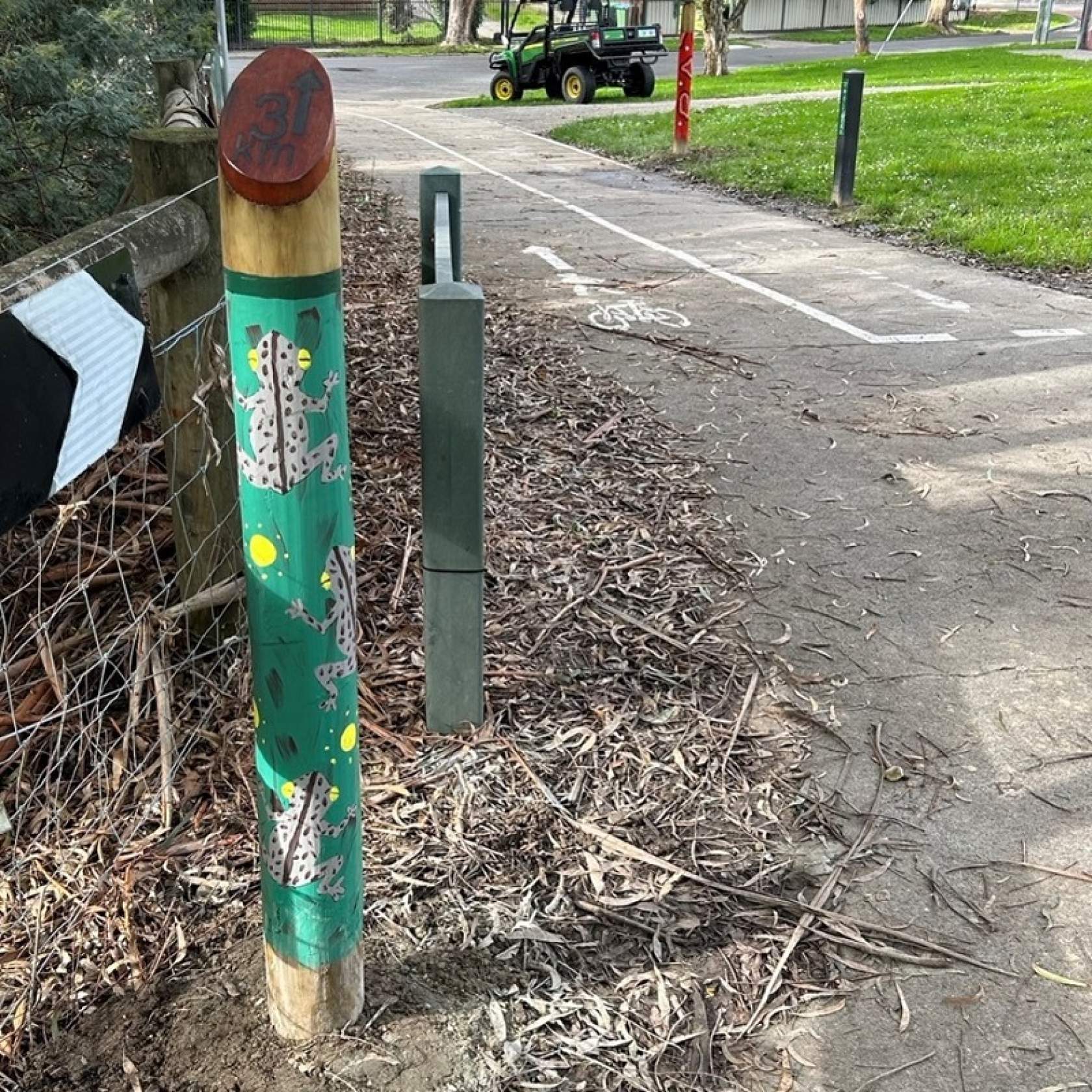 Aunty Irene Norman
Red-Bellied Black Snake*
Red-bellied Black Snakes are one of the most frequently encountered venomous snakes on the east coast of Australia, and are responsible for a number of bites every year. It is one of eastern Australia's most commonly encountered snakes. Unlike other snakes, it gives birth to live young. The babies are venomous too.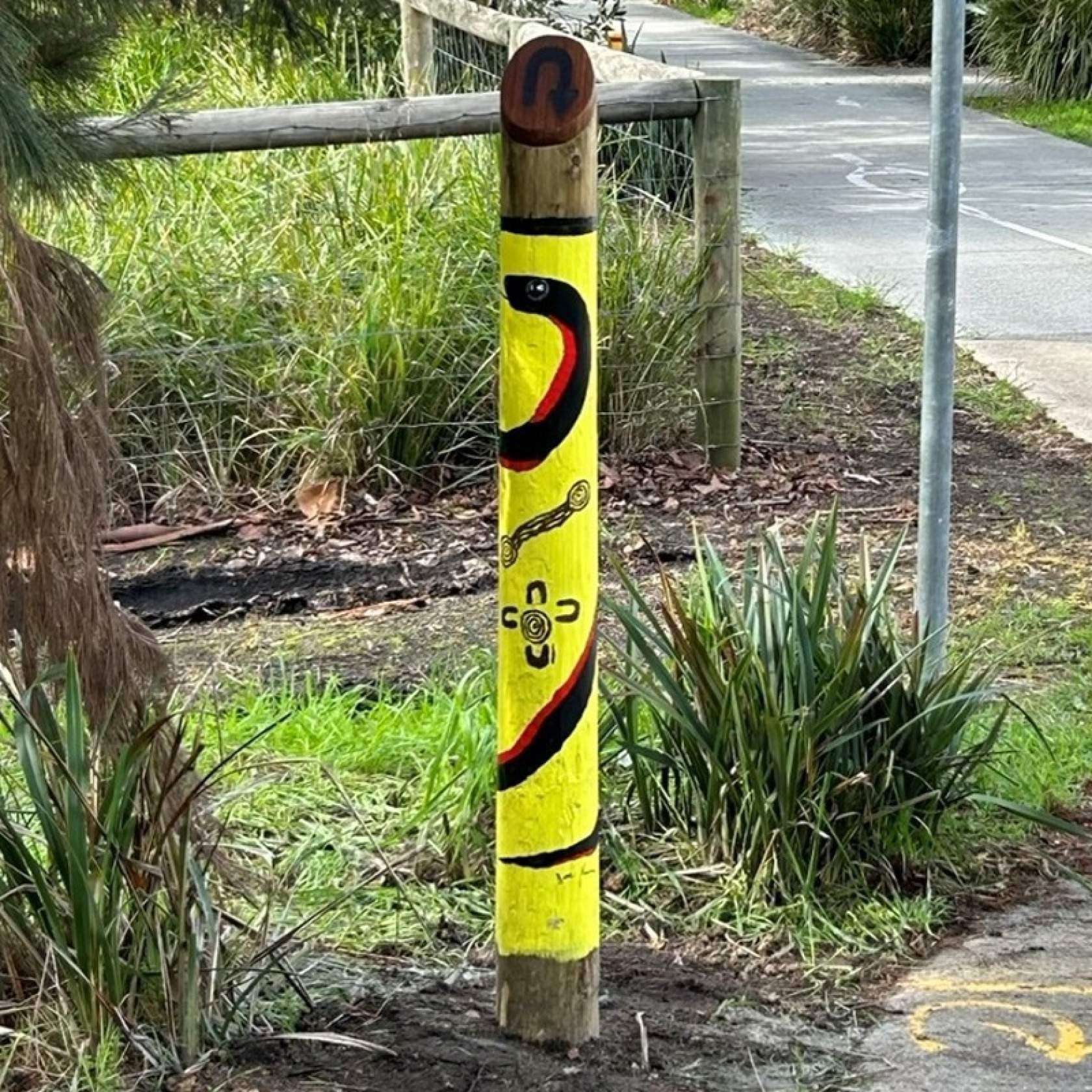 Aunty Daphne Milward
Imperial Jezebel Butterfly
The Red-spotted Imperial Jezebel (Delias Aganippe) is a species of butterfly in the Pieridae family. This species is endemic to Australia. Also pictured is Xerochrysum Bracteatum, commonly known as the Golden Everlasting or Strawflower, native to Australia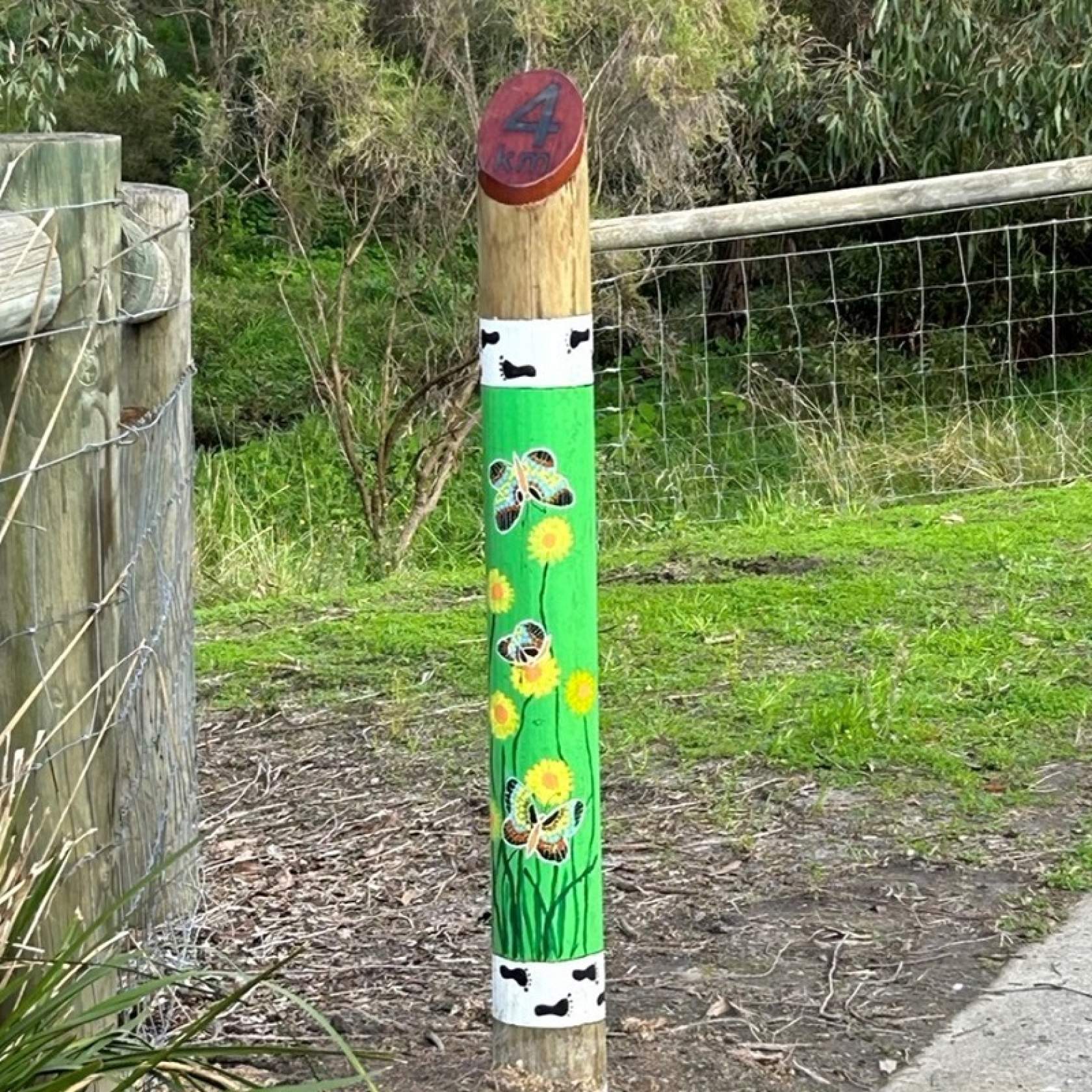 Chris Hume
Female Warrior
The female warrior depicted on this pole helps to represent the community being warriors in their culture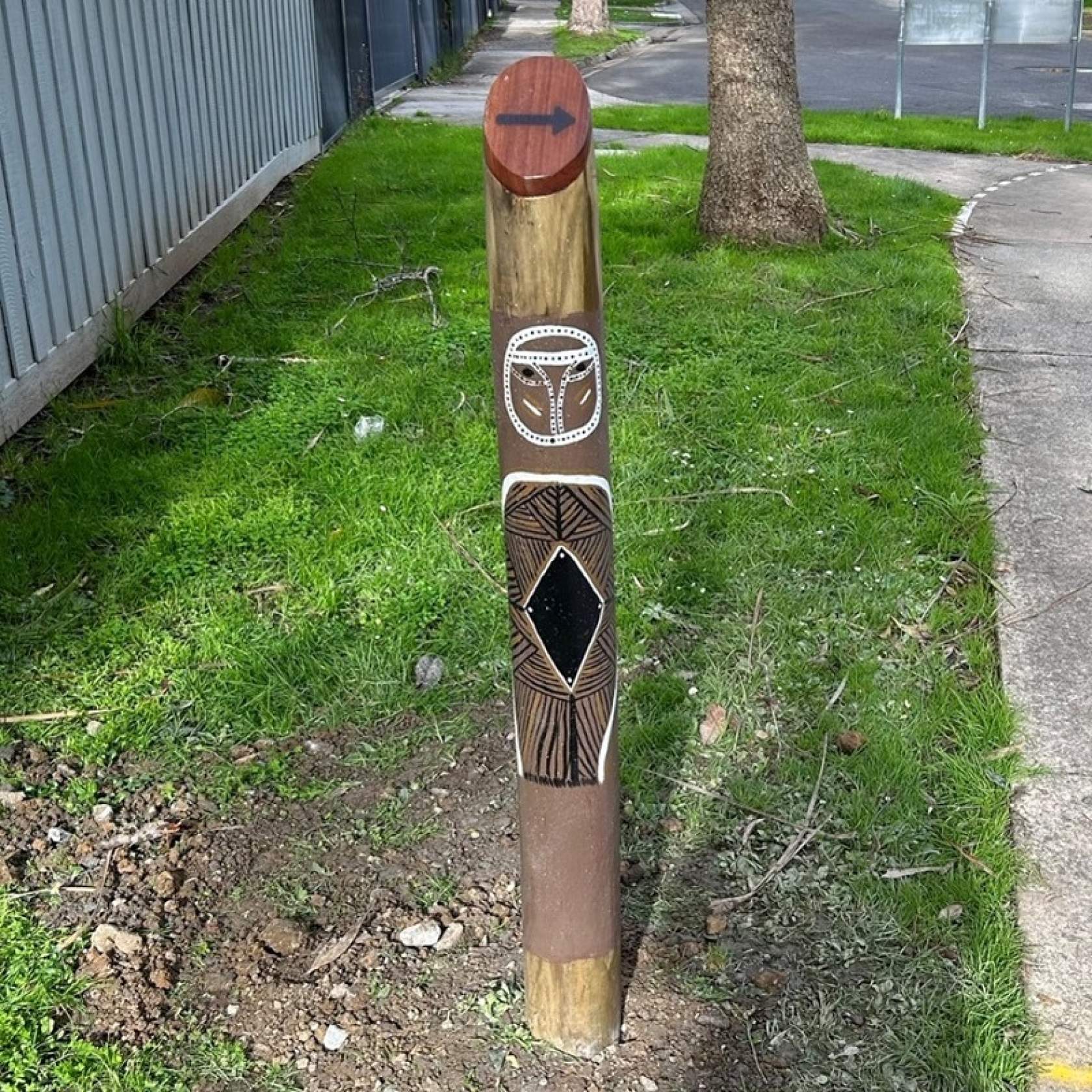 Amanda Wright
Echidna
info to be provided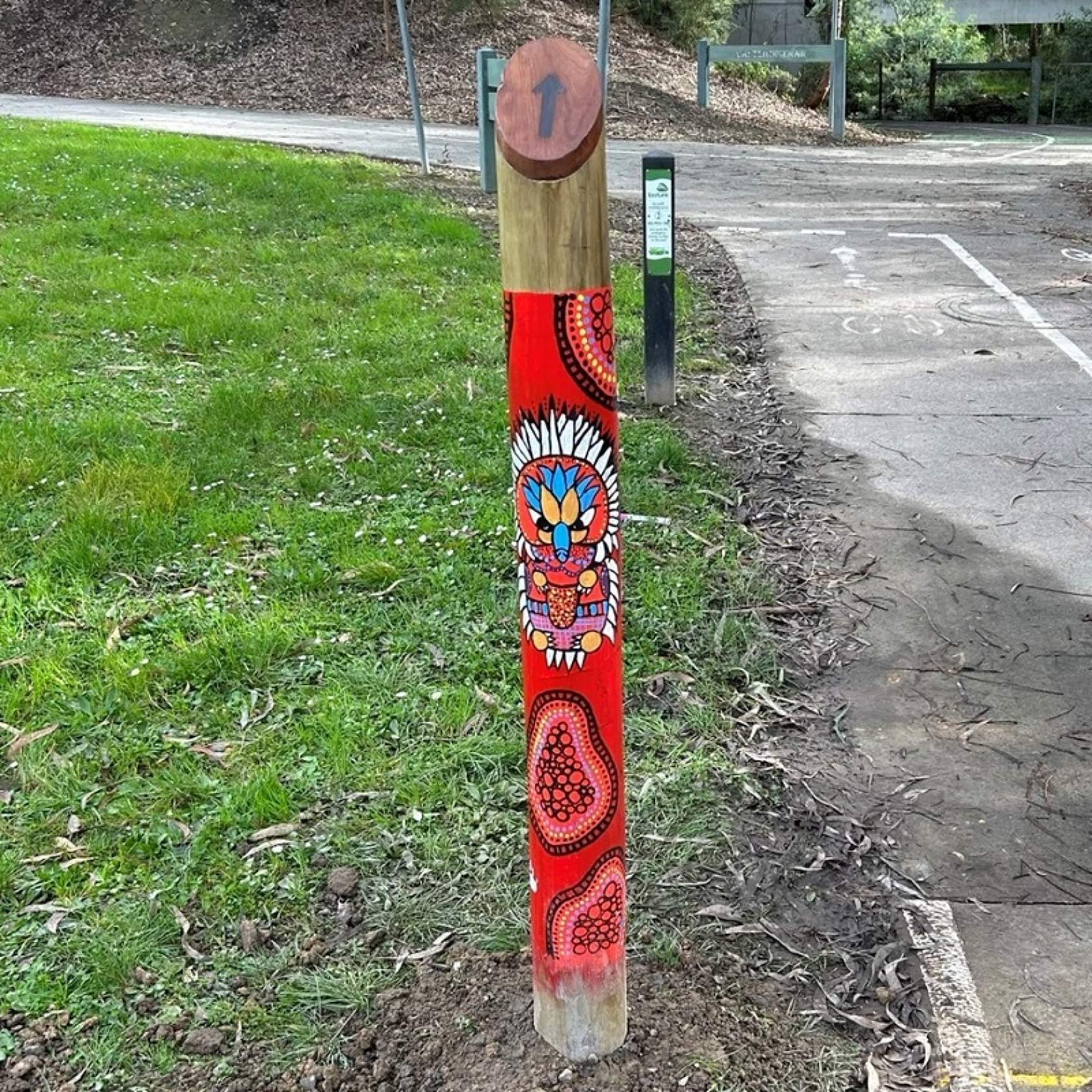 Aunty Irene Norman
Blue Dragonfly*
The Blue Dragonfly is found around streams, river pools, lakes and ponds in south-eastern Australia. Very beautiful and common.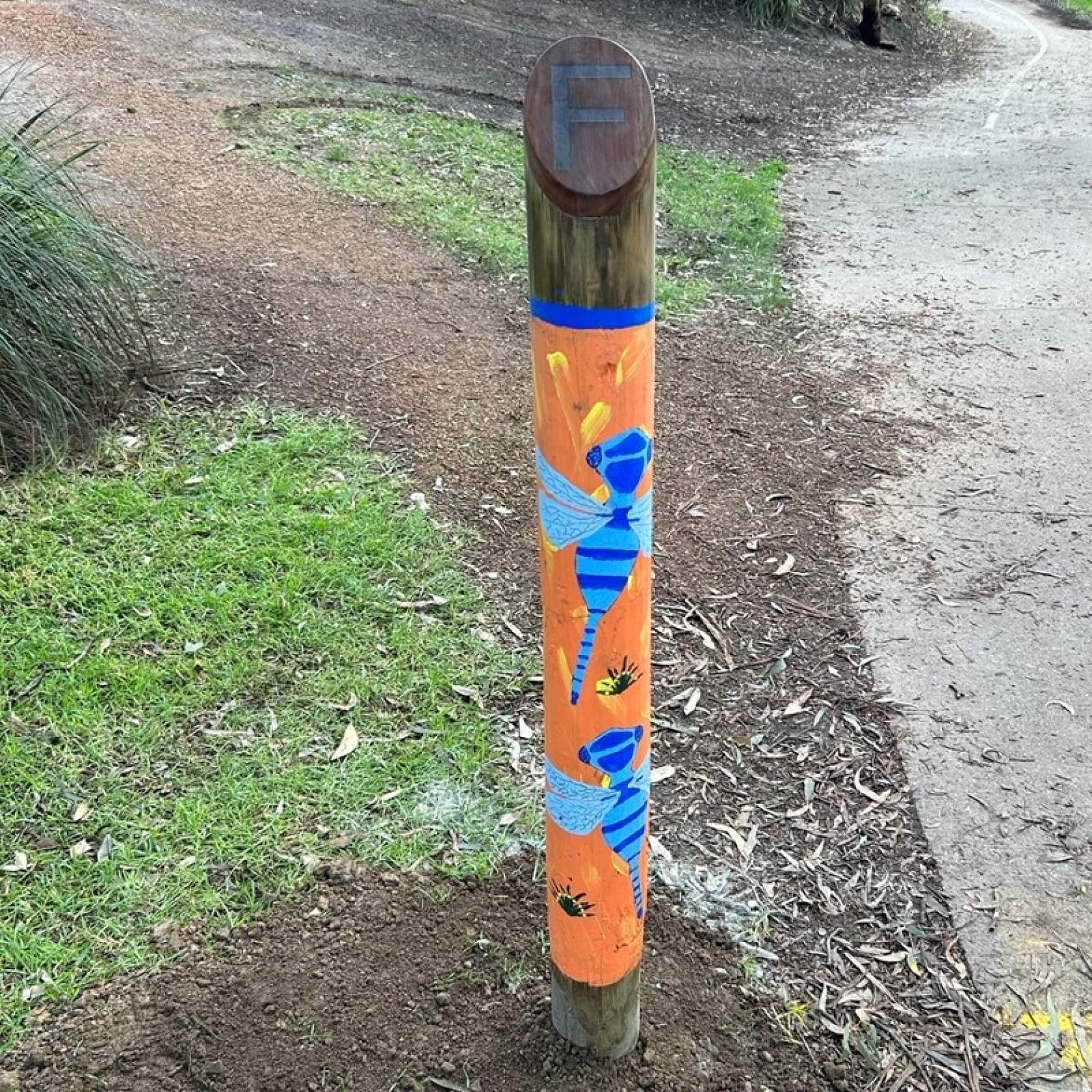 * According to Aunty Irene, "The Frog eats the Dragonfly, and the Snake eats the Frog… a mini cycle of life."
The artists
Aunty Daphne Milward - from the Wolithiga Clan of the Yorta Yorta Nation, she was born in Mooroopna, Victoria. Aunty Daphne is a respected Elder and started her career in Indigenous affairs when the Aborigines Advancement League was formed. Aunty Daphne has worked in council, state and Federal Government, particularly in Aboriginal affairs for over 20 years. Now, Aunty Daphne is a proud mother to Karen and Shelley and a grandmother to three boys. In her spare time, she participates in a variety of programs, delivers cultural presentation and awareness education. Her hobbies include arts & craft, and she is a well respected artist in her local community.

Aunty Irene Norman - proud Wailwan/Djadjawurrung woman and Mullum Mullum Elder. Aunty Irene teaches traditional weaving to community members and in schools. She has exhibited her weaving and other Art at The Koorie Heritage Trust in Federation Square, and had exhibitions at the 69 Smith Street Gallery, Fitzroy, REALM at Eastland and Federation Estate, Ringwood. Aunty Irene is also a poet and songwriter. She works with youth groups and holds cultural workshops with a local Council. Winner of the Arts In Maroondah Resiliency Award in 2021 for reading her uplifting poetry on Social Media during Lockdown.

Amanda Wright - bio to be provided.

Chris Hume - proud Yorta Yorta and Bunurong man from the NSW/Victoria border where his people lived hunting and gathering for thousands of years. Chris was born on Gunai country and lives and work on Wurundjeri country. Chris was the Aboriginal men's cultural worker at Mullum Mullum Indigenous Gathering Place for 7 years and continues to work as a cultural educator. In Chris' words, "I love my culture. From when I was a young fella, I was lucky to have my Elders teach me so much of our culture knowledge that I will hold and keep with me for ever. I will pass the cultural knowledge on to the next generation and the next until I have to go back to the dream time. I do love the work I do and I have a big passion to see all Aboriginal people be proud Aboriginal people and strong black and deadly." In his spare time, Chris competes in boxing and supporting First Nations youth in the sporting field.